Meeting History Guide
-By preid1220
-Map By I Lyk Toast
To start off get your key from the making history quest and head out for the spot marked on the map with the red "X". Ask if there is anything you can do and you will receive a journal talking about the key. You can try to decipher the riddle or you can just go to the spot on the map marked with a blue "X". Then rub the key. Now talk to Laura and find out the shocking truth, you have gone back in time!
Rub the key to get back to your own time and head back to the red "X" to tell him what happened. Now go back to the blue "X" and rub key Part A. Talk to Roger and then rub the key, going to Part B now. Talk to the person in the backyard to find out what you need, ground Guma, honey, and milk. All of it can be found in world A. If you try to talk to Roger in world B now he will be fun to talk to but useless and I have now found the best quote any npc can say

Head back to world A and find the needed items and give it to the baby, it will stop crying. Got back to world B and talk to Roger who in this world has kept his sanity. 1 down 3 to go. Not talk to Laura and find out that she wished she had more adventures and wants a map, you being so kind will make her one. Grab some charcoal and papyrus witch and be found around the house and make a map. Give it to the Laura in world A and then talk to her in world B, she lost her brooch. To keep her from losing it go back to world a and bury it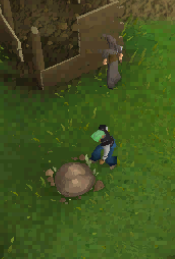 Now head back to world B and use a spade on the spot you buried it, give the brooch back to her and she will reveal the next part of history. Now time to deal with little jack. Head to world A and now he will want to talk to you, remember everything he says! Go back to world B and talk to him again and pretend to read his mind he will ask why the trees in back won't grow, and time to head back to world A. This is the most annoying part, grab a spade and some plant pots and move around all the saplings, if they grow well don't touch them if they are dead go back in time and try again till you get them all growing. Talk to jack again to learn the last part of history and go back to the starting point in present time and clam your reward of a book that gives 1k exp to 2 skills of your choice and 500 exp to another one.
i worked late into the night makeing this for you so dont be ungrateful